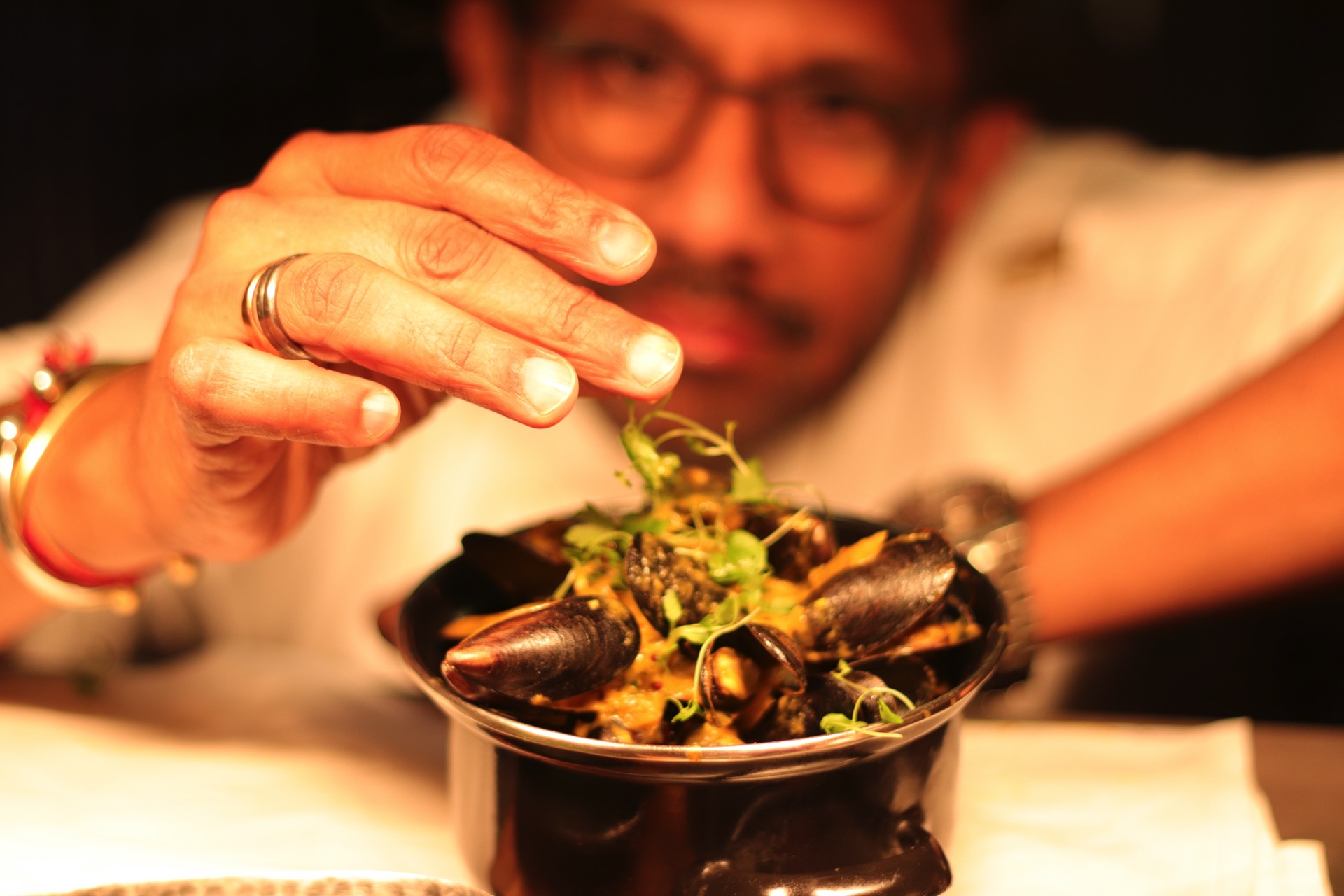 India, home of one of the world's greatest cuisines, is evolving; the culture of its cities is changing; discerning diners are demanding the finest foods from all over the country and regional dishes and traditional ingredients are playing a greater role in today's kitchen. Chef Proprietor Manoj Vasaikar combines a thorough understanding of traditional values and contemporary style. Our menu show cases Manoj's favourite signature dishes honed at some of the finest Indian restaurants in Mumbai and London.
Since opening in May 2005, Indian Zing has received an extremely positive response from critics. We are presenting a selection of comments for you to enjoy.
– Ben McCormack, The Evening Standard, April 2022 –
"It's a testament to the chef's highly individual cooking that Indian Zing stands out on a road famous for its curry houses. While modest prices offer phenomenal value for the quality of cooking and the sophistication of the smart
surrounds." – The best Indian Restaurant in London 2022.
"Chef-owner Manoj Vasaikar seeks inspiration from across India. His cooking balances the traditional with the more contemporary and delivers many layers of flavour – the lamb dishes and breads are particularly good. The restaurant is always busy yet service remains courteous and unhurried."
The "amazing", "top-quality cuisine" at Manoj Vasaikar's consistently high-rated Ravenscourt Park venue "proves that you don't need to go into central London to get really excellent, authentic Indian food". A long-time favourite – the late Michael Winner was a fan – it serves "Michelin star quality cuisine without the wannabe nonsense" in a tightly packed space.
– SQUARE MEAL RESTAURANT GUIDE –
"The main attraction at this "upmarket Indian" is "high-end food" carefully prepared and presented by chef Manoj Vasaikar, who worked at top hotel restaurants in his home country before making his mark on London. Designed in line with the principles of vastu shastra – the harmony of earth, fire, sky, water and air – Indian Zing is a chic, relaxed and unassuming space, done out with crisp white tablecloths and stylish artefacts. Vasaikar's cooking is refined and flavoursome, with deft, confident spicing and fragrance in dishes such as Goan-style clams poached in subtle green herbs and coconut broth or succulent chicken pointed up with dried fenugreek and griddled in the tandoor. There are classy renditions of the classics too: rogan josh is a marrow-rich version, thanks to slow-cooked lamb shank on the bone, while a variant on the kofta theme involves gamey seared venison meatballs. A well-judged wine list includes two Indian options from Maharashtra (Vasaikar's home turf)."
– The Good Food Guide 2021 –
Designed according to the principles of vastu shastra (the harmony of earth, fire, sky, water and air), Manoj Vasaikar's purple-fronted Hammersmith Indian is a top local destination known for its cool vibes and hot cooking. Clever textures, thrilling contrasts and exact spicing inform every flavoursome plateful, and Vasaikar is also on the money when it comes to sourcing organic and free range produce. Dishes such as Goan-style mussels with green herbs in coconut broth or a luxurious take on chicken korma redolent of saffron are delivered with aplomb, but also look for more idiosyncratic ideas such as his vegetable bhanola (a Maharashtrian spin on the ubiquitous onion bhaji), banana flower and colocasia-leaf kofta in a delicate pumpkin gravy or an equally vivid veggie pairing of artichokes and paneer cheese with tomato relish. For afters, try bebinca (a multi-layered Goan gâteau with virgin coconut milk, Cointreau and vanilla). Well-chosen, spice-friendly wines start at £20.
– The Tatler Magazine July 2021 –
"I first met Manoj Vasaikar when he was working at Chutney Mary in the 1990s when the restaurant was in Chelsea. Sponsored and enlightened by the Mathrani family of MW Eat Ltd he went on to fulfil the ambition of most chefs, to do their own thing. One outcome is Indian Zing in Hammersmith, a restaurant my late husband Reg came to love where he and Manoj bonded over cricket as well as food. The menu for my birthday party held in the tented patio at the back of the premises featured Reg's Chicken Jalfrezi, his favourite, as well as specialities from Goa – where we had spent our honeymoon – such as chicken tikka cafreal and pork vindaloo, both with profound base notes of vinegar. Sweet staff cemented the enjoyment of a day one can sometimes sort of dread."
–
FAY MASCHLER, EVENING STANDARD, SEPTEMBER 2015

–
Great breads, evolved and health-conscious cooking where vegetables and sprouted grains hold their own, a mixed-platter first course that rounds up many highlights.
Mumbai-born chef-patron Manoj Vasaikar attributes the equilibrium of his restaurant to the Sanskrit principle of Vastu-Shastra, which would seem to mean equal acknowledgement of who is eating and why they are there. There are many regulars.
– COBRA GOOD CURRY GUIDE, 2013 –
Awarded best UK Authentic Regional Indian Cuisine.
– Tatler Restaurant Guide, 2013 –
"This is a great neighborhood restaurant where they always greet you cheerfully, even when they are full- which is often."
– LATE MICHAEL WINNER, THE SUNDAY TIMES, 2012 –
"Chef Manoj Vasaikar produces tastes that are a remarkable combination of skill and expertise."
– BILL KNOTT, FINANCIAL TIMES, APRIL 2010 –
"A Chic (but not expensive) restaurant in Hammersmith, serves wonderful dishes from all over India".
– FAY MASCHLER, EVENING STANDARD 2009 –
"When a Chef is deft and intelligent, as is Chef Manoj Vasaikar, any festive occasion is grist to the mill…the décor is harmonious and food special and the price sober."
– ZOE WILLIAMS, STELLA MAGAZINE, SUNDAY DAILY TELEGRAPH, APRIL 2009 –
"He's brilliant and this unassuming place-unhurried and great value-is the perfect place to be quietly dazzled."
Stella rating: 9/10
– JEREMY WAYNE, GUARDIAN, MARCH 2006 –
"Everything here is nicely understated: the welcome is warm but not gushing, china and glass sparkle, and the bill is extremely fair."
"Value for money 10/10."
– FAY MASCHLER, EVENING STANDARD, AUGUST 2005 –
"Manoj, who has cooked at Veeraswamy (in the same group as Amaya) sees the way Indian food is going and also demonstrates how India is being discovered gastronomically…designer plates and an emphasis on lightness –but doesn't lose sight and flavour of what we all like about going for an Indian".