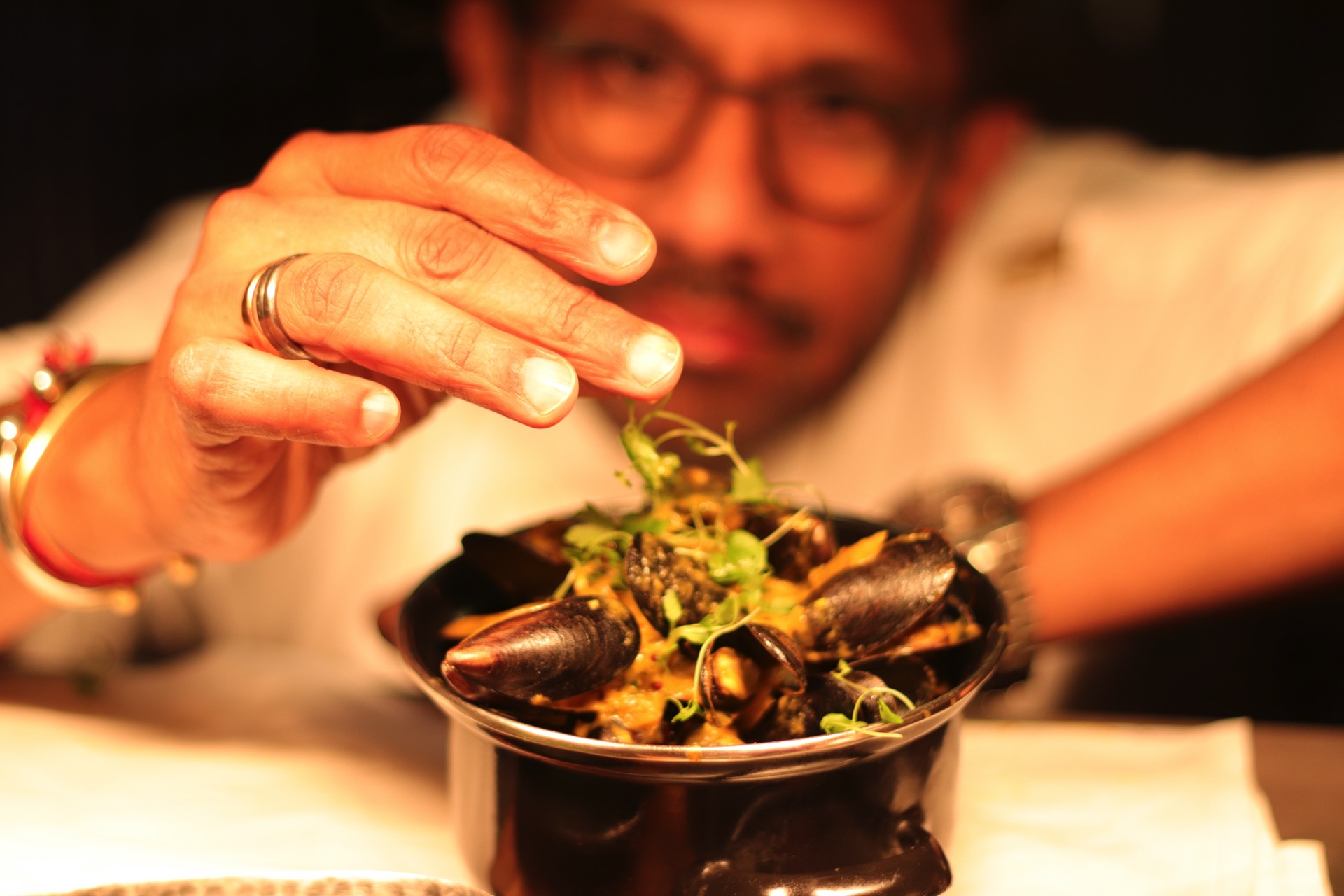 India, home of one of the world's greatest cuisines, is evolving; the culture of its cities is changing; discerning diners are demanding the finest foods from all over the country and regional dishes and traditional ingredients are playing a greater role in today's kitchen. Chef Proprietor Manoj Vasaikar combines a thorough understanding of traditional values and contemporary style. Our menu show cases Manoj's favourite signature dishes honed at some of the finest Indian restaurants in Mumbai and London.
Since opening in May 2005, Indian Zing has received an extremely positive response from critics. We are presenting a selection of comments for you to enjoy.
"Chef-owner Manoj Vasaikar seeks inspiration from across India."
"Cooking balances the traditional with the more contemporary and delivers many layers of flavour."
"Wonderful Indian Cuisine with unusual and delicious use of spices". "varied and interesting".
– SQUARE MEAL RESTAURANT GUIDE, 2019 –
"Classic Indian cooking is given a high end makeover at Manoj Vasaikar's smart Hammersmith restaurant. Always friendly,"
– The Good Food Guide 2018 –
Manoj Vasaikar opened on King Street in 2005 and has been doing a roaring trade ever since, delivering Indian food that is a cut above and has genuine – what's the word? – zing
–
FAY MASCHLER, EVENING STANDARD, JANUARY 2015

–
Great breads, evolved and health conscious cooking where vegetables and sprouted grains hold their own, a mixed platter course that rounds up many highlights – Fays top six picks.
– COBRA GOOD CURRY GUIDE, 2013 –
Awarded best UK Authentic Regional Indian Cuisine.
– Tatler Restaurant Guide, 2013 –
"This is a great neighborhood restaurant where they always greet you cheerfully, even when they are full- which is often."
– LATE MICHAEL WINNER, THE SUNDAY TIMES, 2012 –
"Chef Manoj Vasaikar produces tastes that are a remarkable combination of skill and expertise."
– BILL KNOTT, FINANCIAL TIMES, APRIL 2010 –
"A Chic (but not expensive) restaurant in Hammersmith, serves wonderful dishes from all over India".
– FAY MASCHLER, EVENING STANDARD 2009 –
"When a Chef is deft and intelligent, as is Chef Manoj Vasaikar, any festive occasion is grist to the mill…the décor is harmonious and food special and the price sober."
– ZOE WILLIAMS, STELLA MAGAZINE, SUNDAY DAILY TELEGRAPH, APRIL 2009 –
"He's brilliant and this unassuming place-unhurried and great value-is the perfect place to be quietly dazzled."
Stella rating: 9/10
– JEREMY WAYNE, GUARDIAN, MARCH 2006 –
"Everything here is nicely understated: the welcome is warm but not gushing, china and glass sparkle, and the bill is extremely fair."
"Value for money 10/10."
– FAY MASCHLER, EVENING STANDARD, AUGUST 2005 –
"Manoj, who has cooked at Veeraswamy (in the same group as Amaya) sees the way Indian food is going and also demonstrates how India is being discovered gastronomically…designer plates and an emphasis on lightness –but doesn't lose sight and flavour of what we all like about going for an Indian".